8
Jan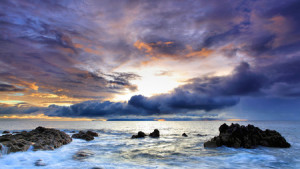 The natural elements at the beach are what make it a memorable place. People return again and again to the beach for solace and peace of mind. There is something about the beach that captures our imaginations and stills our thoughts. There is no other place that bring together the same magical combination of natural elements.
The ocean itself is of particular fascination to people who love the beach. Only at the beach can one stand on the edge of a continent and look out onto an infinite body of water and contemplate it. The ocean captivates us with its vast mysteriousness and being close to it serves as a reminder to us of how small we are.
The air at the beach is very memorable to everyone who has experienced it. It is thick with salt and moisture coming off the water, being carried by the ever present wind. The smell of the ocean is unlike anything else. Not everyone likes it because it is a very organic, earthy smell. Some even describe it as sour because of the moist vegetation and wildlife that it comes with. However, many love nothing more than a salty ocean breeze hitting their face.
The land that makes up the beach is also a very memorable part of it. The landscape is often hilly and sloping, leading down to the water. The slope gives way to sand – the part of the earth that has been tilled by salt water for millenniums. The sand of the beach is a favorite spot for people to perch on. People bring chairs, towels, blankets, umbrellas, picnics and books to the beach for days of enjoyment.
Apart from these elements, there are other features of the beach that people recall when they think on what they love about the beach. The wildlife is one of them. Gulls, fish and even oceanic mammals can be observed in their element at the beach. The vegetation is another. Plants grow in the hills near the beach that do not grow anywhere else and are very recognizable. Even the civilization on the beach – the cottages, shops, lighthouses and restaurants – are one of a kind.